Deerfield Senior Housing National Award 2001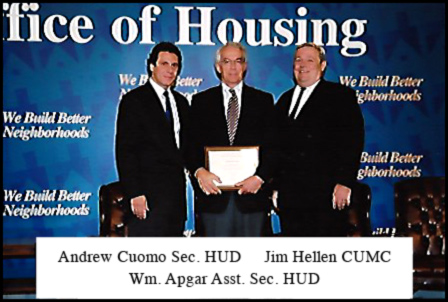 One Deerfield Place, which provides subsidized housing for senior citizens, was honored recently by the U.S. Department of Housing and Urban Development (HUD) for being one of the "Top 100" HUD properties in the country. The award was determined after an extensive assessment of the physical condition of the building, its financial health, the management's effectiveness, the services provided for the residents and the resident's satisfaction. Over 41,800 HUD properties were assessed.
Christ United Methodist Church of Deerfield, working with HUD, opened One Deerfield Place in 1981. The building has 98 safe and well maintained apartments, including 10 for the physically challenged. Residents can use the services of a service coordinator and participate in a wide range of activities while enjoying an independent life style.
Jim Hellen, President of Deerfield Senior Housing Corporation, attended the awards ceremony in Washington, D.C. and received the "Top 100" plaque from HUD Secretary Andrew Cuomo on behalf of One Deerfield Place; its residents' Management Agent, Lutheran Social Services of Illinois; Patricia Swift, Manager; and the Board of Directors.
The Sun Shone on the Ground Breaking
It was a Day to Celebrate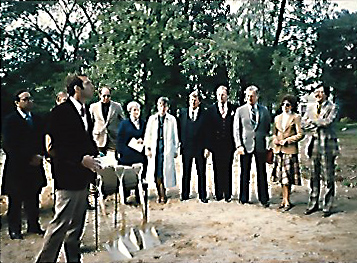 Rev. Weatherby in his invocation spoke for the people of Deerfield when he said, We stand on this ground today because we believe in building people up in the world that often puts people down. In a desperate time of war and discord, we come seeking peace and hope. In a world of injustice and oppression we come seeking a better way of life for all people. We pray our community may be enriched by this act of compassion and we ask that our leaders be strengthened in their vision to make a better world by beginning right here.
John Corn introduced members of the corporation and Mayor Bernard Forrest. Mayor Forrest expressed thanks to the various committees and then said "We would not be here today if it were not for John Corn and his persistent dedication to this project. Not only has John chaired the Senior Citizen Housing Site Committee, but he was also instrumental in...